Anett Rolikova - Ethereum Sunshine 🌞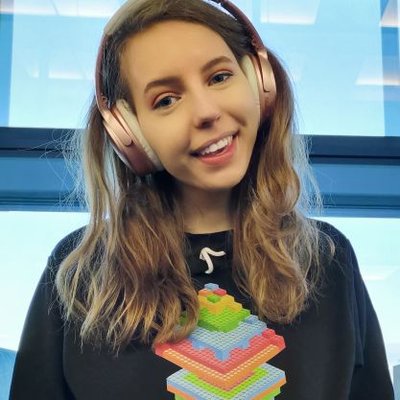 Open for hire for non-engineering roles, ideally protocol researcher, venture analyst, dev rel and growth roles. Say Hi on Telegram
I do have shorter version of this page at ⭐🌙🔭🐾 (click on emojis)
✨ I do enjoy Crypto Twitter a lot
🖥 I don't code much although I'm pretty active on GitHub
💼 I do have LinkedIn
💻 I enjoy writing and share my blogs on Medium you can find me on Miror too
🎨 I do create art and mint my NFTs on KodaDot
👩‍💻 I do have my own GitHub repository list of links for Crypto Beginners
🌿 I do have Lens decentralised social media profile
🟪 I do enjoy Farcaster find me there as @anett
🪐 Introduction
Anett has been connecting people in the Ethereum ecosystem since 2019 with the unique perspective on Ethereum Community. She used to be Ethereum events organiser nowdays leaning more towards project management and developer relations roles, technical writing, development coordination and similar. Learn more about Anett and her story on this website. For more in depth ideas on Ethereum Community, how volunteering at crypto conferences can help you get full time job at cryto listen Episode 19 - Anett Rolikova by WholesomeCrypto podcast.
My Speakers bio
Anett is leading Developer Relations at Hyperlane building the first interoperability layer that enables you to permissionlessly connect any blockchain, out-of-the-box. Previously she lead NFT Standards Working Group as well as contributing to the evolution of Ethereum Core Protocol on behalf of Ethereum Magicians.
Contributions & Memberships :
👩‍⚖️ GitcoinDAO Steward
📖 Ethereum Meetup Gitbook for Meetup Organisers
🎨 KodaDot Logo and Presskit Author
👩‍🏫 ethereum.org Content Contributor
👩‍💻 Advisor for ConsenSys Vanguard Program
👩‍🏫 Kernel KB4 Fellow
⟠ My Ethereum Story
I may be seen as someone who just appeared on Crypto Twitter with cute face and got hundreds of followers on Twitter. Here's the story of how I fell into Ethereum rabbit hole in bullet points:
April 2018 I visited Progressbar - blockchain focused cowork space for the first time
September 2018 I started to help out in Progressbar with events
November 2018 crew from Progressbar went on Devcon4 in Prague, I visited Prague as tourist and got invited on a couple of evening events during Devcon4 - Funfair and Chainlink Event, Rockaway blockchain party, Binance event, Event/ Party in Zizkov Tower. I had no idea what blockchain neither Ethereum is. I meet Brenda Loya at Funfair event, who gave me valuable advice about not being afraid of being the only girl around guys in tech which for me was eye-opening moment.
I tried to read about Blockchain and Ethereum on medium.com but I didn't understood it
January 2019 volunteer at AraCon - Aragon Conference. I saw the community and felt in love, wanted to be apart of it. Meet Lenka from MakerDAO - she told me about MakerDAO micro grants initiative. And bunch of other sweethearts that I'm in touch until today. I started to use Twitter. Attended GoerliCon where Afri released Goerli Testnet - I had no idea what's going on, I didn't understood any of what Afri is doing but I loved the energy in the room, and took bunch of pics that are blurry but everyone was taking pics so I did too :D
March 2019 organised the first MakerDAO self-organised meetup and got micro grant from MakerDAO for it
April 2019 volunteered on my first ETHGlobal event - ETH Cape Town hackathon where I started to look for my first community gig in Ethereum.
May 2019 got my first job in Ethereum, I was working with team on Ethereum Governance related project. This was fail but Griff introduced me to Jamie
June 2019 Jamie offered me to help him out with Ethereum Magicians. I started to help out with Operations and Events. Jamie became my mentor. This was my most valuable connection in Ethereum that I got.
The story continues in Proof of Work as I started working in the ecosystem full time on a various projects.
Proof Of Work
🌈 Progressbar
September 2018 - January 2020
Operations, Event Management Description of work: In charge of Social Media platforms, program agenda of events. Communications and Operations for blockchain focused co-working space. Progressbar
✨ Ethereum Magicians
June 2019 - March 2020
Operations Manager Description of work: Managing social media platforms, organizing and hosting in person and online events, creating content for social media platforms, community and platform operations. Leading fundraising and grant campaigns.
I have organised following events:
Council in Berlin 2019 recording & another recording
Ethereum Community Room at Devcon5 in Osaka
Ethereum Sessions at EthCC3 in Paris
ETHécole in Paris
NFT Dev Meetup in Denver
OG Council in Amsterdam
💜 Ethereum Meetup Support Program
March 2020 - August 2020
Community Communications as Ethereum Foundation Grantee
Description of work: Created Gitbook guide documentation for Ethereum meetup organizers, research on community events and virtual events platforms, leading community of meetup organizers. Host group community calls, connect speakers with organizers, involve community in group activities. Community building, coordinating. Using creative ideas, interate fast, communicate, problem solving, effectively self-manage community. Find out more about Ethereum Meetup Support Program EMSP Documentation
💸 Superfluid
September 2020 - December 2020
Community Communications
Description of work: Creating campaigns on social media, organising and hosting Community Calls, creating product tutorials on Intercom, create Community Design plan. Project website
🐨 Bitfwd
December 2020 - April 2021
Ecosystem Weaver
Description of work: Worked with a few projects on creating social media campaigns, organising and hosting Community Calls, designing promo materials, swag operations and logistics, virtual event organisation, logistics and operations.
Worked with projects: 🌱DeepDAO🌱dHEDGE🌱 Bitfwd🌱
Organised and co-organised virtual events:
🥝 Ethereum Magicians
April 2021 - August 2022
Ethereum Standards Coordinator
Description of work: Research and document NFT-related EIP and ERC standards, create documentation and perform technical writing, lead NFT Standards Working Group, host community calls, coordinate and host developer meetups, representing the community on various conferences. Collaborate with Ethereum Core Coordinators and coordinate different groups on consensus layer and activities around NFT related EIPs. NFT Standards.wtf documentation
NFT Standards Community GitHub
🛸 Nethermind
September 2022 - October 2022
Internship Program Manager
Description of work: Manage up to 150 interns across all departments, coach and guide them during the internship tenure - Help interns join the project(s) which align best with their interests at the start and during the internship. Work with the Project Staffing team and Project Managers to understand projects and their staffing needs. Help project teams to prepare intern onboarding materials and procedures to ease the project entry learning curve. Nethermind
⏩️ Hyperlane
January 2023 - Present
Dev Rel
Description of work: Produce engaging content that appeals to technical community, own technical documentation. Create business development strategies, engage with Hyperlane partners and build meaningful relationships with project partners. My role involved building community Engagement and Community Growth strategies, design and lead ambassador program, and work closely with PM and BD teams on developer experience and improving documentation. Hyperlane
Companies and projects that I worked with:
As contractor or short-term roles or ⭐️ Tennagraph ⭐️ MVP Workshop ⭐️ Flexddapps ⭐️ Ethereum Foundation ⭐️ Sigmaprime ⭐️ OnFinality ⭐️ Bitfwd ⭐️ KodaDot⭐️ OnFinality⭐️ Superfluid⭐️ Gitcoin⭐️ SushiSwap⭐️ Fraktal⭐️
Public presence - Talks & Podcasts
👩‍🏫 How to improve Ethereum by contributing to an open-source ecosystem Lightning talk on ETHPlanet Lightning talks in Osaka
👩‍🏫 EEA and Ethereum Community panel at Devcon5
👩‍🏫 Ethereum Roadmap 2020 panel at Devcon5
👩‍🏫 How to get more involved in the Ethereum Ecosystem as a woman at ETHPlanet Virtual Event
👩‍🏫 Ether je i pro holky! Interview in 🇸🇰 & 🇨🇿
👩‍🏫 PEEPanEIP #33: ERC and application layer standards with Anett Rolikova Talk
👩‍🏫 CCC #27 Anett Rolikova: "Na internete sa ľudia radi schovávajú za svoje nicknames." Interview in 🇸🇰
👩‍🏫 Decrypting Mainnet: Anett Rolikova of Ethereum Magicians Interview
👩‍🏫 Mainnet 2021: Setting the Standard: NFTs for the Future Panel Discussion
👩‍🏫 Mainnet 2021: Mainnet Bonfire: Getting to the Next Million Panel Discussion
👩‍🏫 Letem svetem NFTs Online Talk & Discussion in 🇸🇰 & 🇨🇿 Slides are in English
👩‍🏫 Episode 19 - Anett Rolikova by WholesomeCrypto Podcast
👩‍🏫 The Future of Inclusion 3.0 Online Panel discussion
👩‍🏫 Avalanche Summit 2022: From ERC-20 to NFT ERC-1155 slides & talk sum-up thread
👩‍🏫 ETH Dubai 2022: Why devs should care about NFTs & slides
👩‍🏫 ERC 721 as failed attempt in standardisation of NFTs NFT Berlin - Talk
👩‍🏫 EthCC2022 Why ERC721 sucks and we need a new NFT standard - Talk
👩‍🏫 DoWeb3 on the go: Anett Rolikova - Podcast
👩‍🏫 Ethereum Roadmap Session at Devcon 6 Starts at 2:43:00 - Panel
👩‍🏫 ERC Lighting talks at Devcon6 Starts at 3:58:00 - Talk
👩‍🏫 Devcon 6 Recap – Live From BogotaYouTube - Podcast
👩‍🏫 Smart Contracts vs Parachains at DOTBrno - Panel
👩‍🏫 ETH Brno Hackathon Opening & Ethereum Roadmap Starts at 17:00 - Talk
👩‍🏫 Building ERC NFT Ecosystem - by Anett Rolikova - Talk followed by discussion circle
👩‍🏫 How Decisions Get Made on Ethereum I Governance Panel at Interop Summit 2023 - Moderated Panel
👩‍🏫 From web2 to web3: why, how and with whom? at ETH Denver - Moderated Panel
👩‍🏫 Our Cross-Chain Future Panel I Avalanche Summit II - Panel
👩‍🏫 Permissionlessly Connecting Blockchains: Anett Rolikova, Hyperlane I Avalanche Summit II - Talk
👩‍🏫 Interoperability challenges when building Interchain apps / Anett Rolikova at ETH Prague 2023 - Talk
Ethereum's Istanbul Hard Fork Important Updates Explained - Cointelegraph
Ethereum Proponent Virgil Griffith Deemed a Flight Risk, Judge Denies Bail - Bitcoin.com
Why Anett Rolikova of Ethereum Magicians Doesn't Like EIP-1559 - Decrypt
Quantstamp Community Update - September 2021
Understanding Ethereum Standards and Its Importance In The NFT Space - Chaindebrief
The Underground World Of The Ethereum Magicians: Benzinga Interviews Anett Rolikova At EthCC 5
Dispatch from Denver: Ethereum Builds through the Bear Market
Online presence and experiments
I do believe that you can build your own successful personal brand on a social media. Here are my personal experiments:
I'm building my personal Twitter.
I have Medium account where I share blogs regarding to my contributioins to Ethereum projects. I recently started publishing on Mirror which is decentralised publishing platform but you can find my blogs on Hackernoon too.
I'm hoping to start writing more and publishing my ideas on Substack, but no promises on that. I publish there on very irregular basis.
I started my mind garden on Tumbr, it is like a public Mind Garden where I share my notes,links to articles I read, sometimes I use it to vent my thoughts and clean my mind by writing about my day… It may look messy sometimes but I haven't found a better platform where I can share my thoughts,yet.
I created Ethereum Community YouTube channel where I did interview with Udi Wertheimer. I would like to film more interviews with people from the Ethereum Ecosystem to give more perspectives out to the public about Ethereum, find ways how to improve, simplify Ethereum, get to know more about people in Ethereum… (unfinished as it is in experimental state).
📝 I write notes and share interesting articles to my Mind Garden
🚲 I share my workouts, hikes on Strava
📖 I do read books and share them on Goodreads
🦋 My favs and recommendations
Podcasts
I do listen to podcasts sometimes, here are my favs:
Crypto
Updated list:
I used to love these:
Non-Crypto
Updated list:
I used to love these:
Newsletter
Crypto
Non Crypto
If you're looking for something simple to read in the morning or looking for simple yet educational newsletter Empty Your Cup does it wonder:) If you're looking for something more smarter, technology oriented then Excavations are great and also Nothing but Words newsletter too, both are pretty interesting and I do recommend to subscribe to both of them :)
Articles & Books
FAQs
Why planett.xyz?
Simple - I have planet 🪐 tattooed on my right upper arm and my name is Anett so planet-Anett 🤗 You can find the full story about why planet on my Instagram which I keep private for personal reasons.
planett.eth is my public ENS which I use primarily for DAOs but I also own anett.eth which I use mainly for POAPs
This page is WIP (Work In Progress) it may change over time. I'm updating it on a very irregular basis.